If you are in the market for a new litter box you may be overwhelmed by the options available. There are various sizes, shapes, hooded, non-hooded, and even self-cleaning! It may be hard to decide so here are our top 5 litter boxes to help you choose!
#1 Catit Jumbo Hooded Cat Litter Pan
This one is my personal favorite and the one I am currently using right now for my cats. What makes this a great litter box is its size. It is spacious enough for even the largest feline to have room to do their business! The hooded covering offers great odor control and because the entrance space is lower, it is a great option for growing kittens. The door flap is not something I would recommend using if your cat is new to hooded boxes. I personally do not use this feature with my cats.
Pros
Spacious

Odor containment

Strong plastic

Carbon sponge

Easy to clean

Fold-back top

Low entrance, high back wall

Great for kittens, adults, and special needs cats

Customizable color options
Cons
Door flap can be hard for some cats to use (it is removable)

Bulky size makes it harder to hide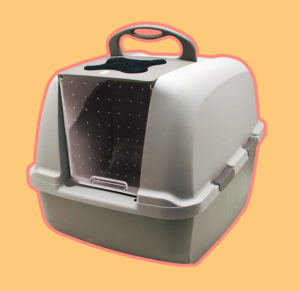 #2 Arm & Hammer Large Sifting Litter Pan
If your cat does not like hooded litter boxes, this is a great option. The Arm & Hammer sifting litter pan offers something many others do not, antimicrobial protection that inhibits the odors. This is especially good for multi-cat homes and apartment dwellers will small spaces. There are three trays to this litter box as well making the sifting action very easy to clean when using the proper litter.
Pros
Very easy to clean

Low Odor

Extends life of litter

3-tray cleaning action
Cons
Must use clumping litter

Should be washed regularly

Not ideal for high-dust litter

Size is average (on the smaller side)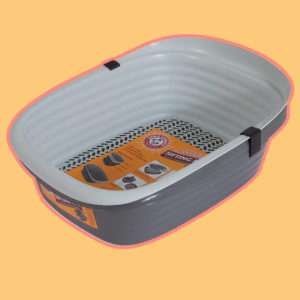 #3 Petmate Clean Step Litter Dome
Another hooded option for litter boxes is a dome! The Petmate "Clean Step" litter dome is a very different design from the typical litter boxes you see on the market. It offers a step-way into the box to help clean paws and give more privacy. The unique shape not only hides all of the mess but it is also an attractive modern look. While the overall design is appealing to us, not every cat will enjoy using it.
Pros
Modern shape and design

Mess is hidden out of sight

Built-in litter mat

Better privacy

Includes carbon filter
Cons
Not all cats will like it

Not ideal for larger breeds

Can be tricky to clean

Step-way doesn't always contain litter

Best used with pine or paper based litter
#4 Good Pet Stuff Company Hidden Cat Litter Box
Similar to the last litter box, this one too features a unique dome shape but with a twist! The Good Pet Stuff Company has revolutionized hiding the litter box in plain sight! This box doubles as decorative potted plant making it aesthetically pleasing in any living space. The large size and durable plastic are great for multi-cat homes. This box can even be faced at the wall or in a corner to completely corneal that it is a litter box at all!
Pros
Attractive and hidden design

Durable plastic

Large size

Great for multi-cat homes

Good option for large breeds

Comes with one year warranty
Cons
Can be hard to dump and clean

Large opening does not conceal odors well

Plant size varies between orders

More expensive than standard litter boxes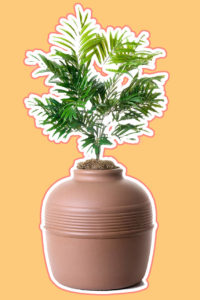 #5 Omega Paw Self-Cleaning Litter Box
If you hate scooping the poop, this may be your solution! The Omega Paw Self-Cleaning Litter Box features a unique shape with rolling action. The side of the box as a tray that catches the clumps of waste when you roll it on its side. Cleaning is as simple as rolling over, rolling back, and pulling out the containment tray. While this is a great idea, in theory, it does not work well with all cat litter. I have used one myself and I find it is best for single cat homes and must be rolled and cleaned daily.
Pros
Self-cleaning design

Attractive shape

Privacy for cats

Convenient for daily cleanings

Good size
Cons
Can only be used with clumping litter

Doesn't get everything

Odors not controlled well

Weak clips/clamps on sides

Can be messy

Not ideal for multi-cat homes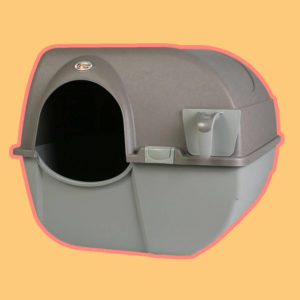 What is your cat's favorite litter box? Let us know in the comments!