Last Updated on September 24, 2020
A lot of treats out on the market are loaded with filler, preservatives, and additives that don't always agree with a cat's body. Some of the most loved cat treats tend to cause medical issues because they are essentially like fast food for kitties. Many can even cause your cat to put on extra pounds which is not good. If you are looking for recommendations that are not only tasty but healthy for your cat, here are some of the best we have tried!
PureBites – Affordable Freeze-Dried Treats
Purebites has a nice selection of flavor options that are all single ingredient treats and our cats seem to love them a lot. These treats are great for picky eaters, limited ingredient diets, and as a topper for meals. Because freeze-fried treats can be rather expensive, we have found these to be the best bang for your buck. This is especially true if you buy the larger packs marketed for dogs. You get bigger pieces and more for your money. They are easily broken up as well.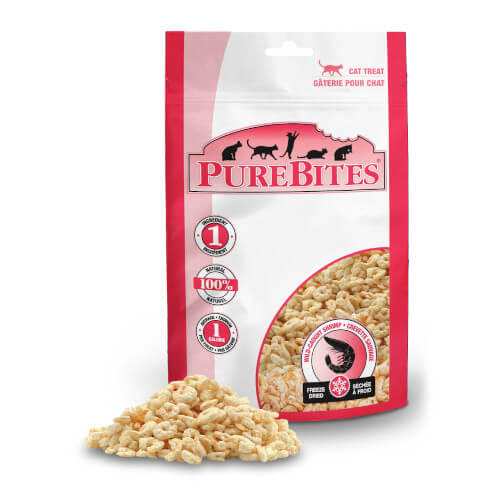 Vital Cat – Raw Freeze-Dried Treats
Vital Cat offers freeze-dried treats that are not only a single ingredient but made from raw, uncooked meat. This means they have higher nutritional content than standard free-dried treats. There is a nice selection of flavors to choose from and all come from hormone and antibiotic-free sources. They also offer entree meals great for cat owners who like to use both wet and dry food.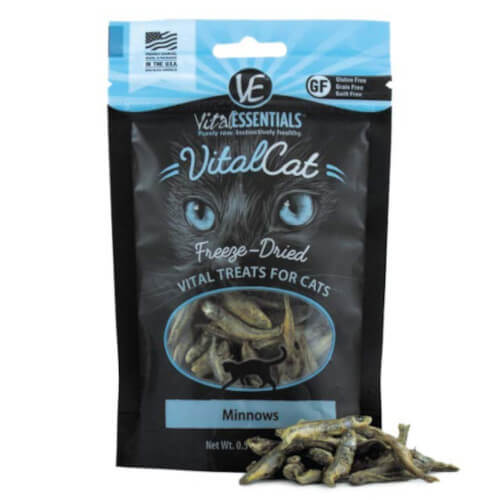 Whole Life Pet – Human-Grade Treats
Whole Life Pet is another brand that offers high-quality freeze-dried treat options for your cat. Not only is the meat used human-grade but each batch is tested for quality and a traceable nutritional value in independent labs. This means that their treats are made in accordance with the AAFCO regulations and are 100% safe for human consumption. These treats can also be rehydrated with water and served as a wet treat option for cats who do not like crunchy treats.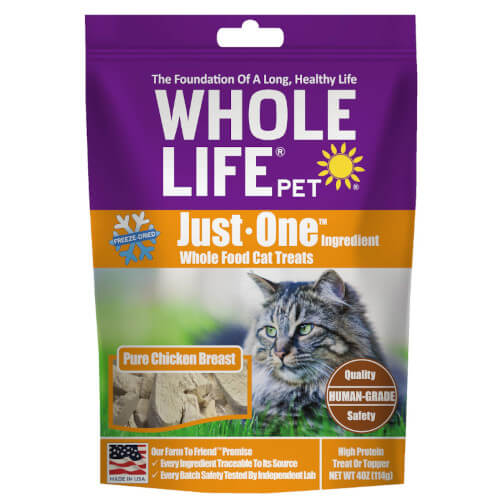 Fruitables – LID & Superfood Treats
Fruitables offer three flavor options to choose from with ingredients that all have a purpose. They come in tuna with pumpkin, chicken with blueberry, and salmon with cranberry. Since they have fruit within the ingredients, they make for great treats that supply your cat with vitamin C, antioxidants, and superfoods which are great for the bowel and bladder. If your cat is prone to getting UT infections, give the chicken with blueberry or salmon with cranberry treats a try. Both fruits are great for preventing infections.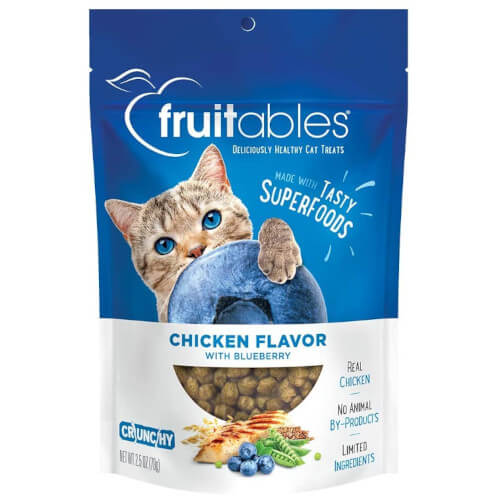 ORIJEN – Full Protein, Grain-Free Treats
ORIJEN has a great selection of freeze-dried treat blends that make full use of vital organs from the meat source. With flavors such as lamb and wild boar, you are sure to find something your cat will enjoy here. They do not use grains or fillers to bind their treats either, they are 100% grain-free. All varieties come from either free-range, grass-fed, or wild-caught sources depending on the flavor. Their gentle freeze-dry process ensures most of the nutrition is retained for a high-protein nutritional treat your cat will love.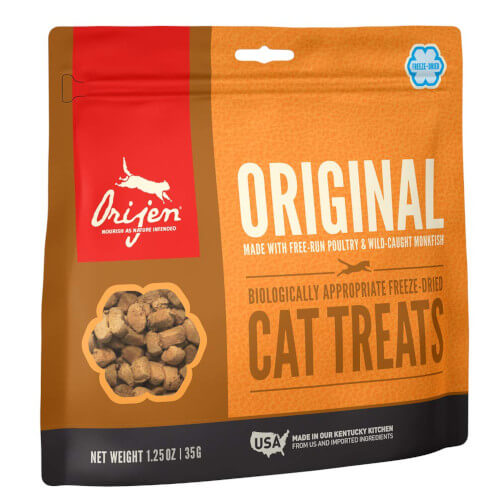 Purina Fancy Feast Filets – Real Moist Meat
Purina's Fancy Feast filets are perfect for cats who like moist, soft treats but need to be on a limited ingredient diet. Each fillet only has three ingredients being meat, broth, and salt. The filets can be stored in the refrigerator for up to three days after opening. They are great as stand-alone treats or meal toppers. For an easier way to serve these as treats, use scissors and cut them up into small pieces and store in a glass sealed jar in your fridge.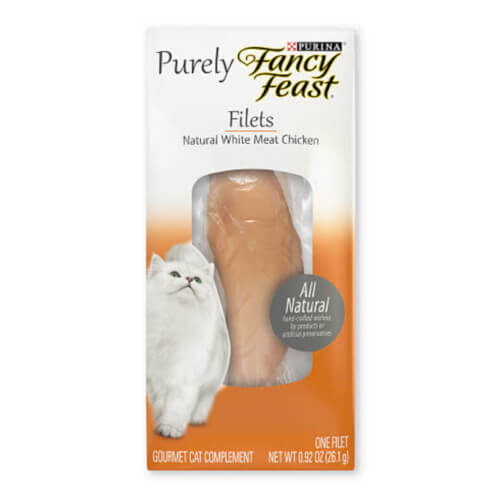 Do you know of another healthy cat treat brand that your cat can't get enough of? Feel free to share it in the comments to let others know about it!